10 Nerdiest Things I Found on the Interwebs
Good day, everyone! It seems that the other day you really appreciated my top twelve nerdy commandments, so I've decided to keep the nerdy thing going. Today I bring you:
10 Nerdiest Things I Found on the Interwebs
1. A delightfully nerdy t-shirt that makes me feel special for getting the joke. Ah, DOS. How I remember thee.
3. Geeky license plate!
4.
XKCD
Webcomic (I <3 XKCD. A lot.)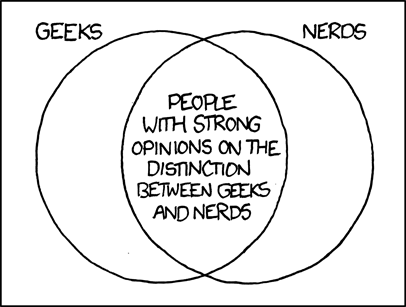 5. Nerdy YouTube Video -
The Guild - Do You Wanna Date My Avatar - I know you've probably already seen this, but it makes me happy. And if you haven't seen it, well then, enjoy!
6. Nerdiest New York Times Correction. Aww. Yay.
7. Potter Pick Up Line! Try this! It just might work.
I must have had some Felix Felicis, because I think I'm about to get lucky.
8. Nerdy Grafitti! Not a fan of grafitti, but this made me giggle. I kind of want to wait and see what happens.
9. Nerdiest State: OHIO! Apparently Ohio was given the title because it has the highest per capita library visits in America. I am sure that being home to
HP Ohio
doesn't hurt either.
10. Nerdiest gadget. That I want. For my birthday. December 26. Hint hint.
Programmable Magic Wand TV Remote