2012: The Good, The Bad, and the @#&$!
After a sudden December break-up with my boyfriend of more than two years, 2012 was off to a rocky start. While I'd nursed break-ups before, it had been a while since I had been the one being dumped. I surrounded myself with friends, family, books (including this
gem
), and a lot of yarn, and decided to get on with my life. I was strong and prepared and determined to make the best of 2012. Unfortunately for me, life got a little messy along the way.
A few weeks later, my old friend Streptococcus paid me a visit. It had been about three years since I'd seen him last, (Yes, I made him male. This may or may not have anything to do with getting my butt dumped two months prior.) and he was about due for a house call. Strep knocked me out for a good week while I battled high fever, extreme exhaustion, and feeling like I was swallowing a fork. As a bonus, strep also brought out my dormant HSV1 and blessed me with my first cold sores of my life. I looked like a leper.
When I finally escaped my sickroom and went back to work, my mother called me with bad news. Really bad news. My 93 year old grandfather was in the hospital with pneumonia, and my 18 year old cousin Leanna, did not wake up that morning. The anger that I felt during this time, and still feel, is indescribable. I've tried many times to capture my emotions in my daily poems, but I still have not yet figured out what I need to say. When my grandfather passed a way a few weeks later, I felt empty. Even though dying at 93, is not tragic, I still felt that I was robbed of precious time. Whether someone is 18 or 93, when they are suddenly no longer with you, it is devastating. When you love someone, you expect them to live forever, despite what you may know about science. Of course, as it's supposed to do, the circle of life keeps turning.
To continue with "Lessons Taught to Me by The Lion King", the circle of life did, in fact, keep turning. As springtime came to New York City, I was blessed with some more people in my life to love. I did not know it at the time, but the Jewish boy I met at the speed-dating-event-I-went-to-only-to-please-my-mother, would soon find a place in my heart. Adam and I really hit if off and have been together for several months now. In fact, we have just returned from our first vacation together, and I have a really good feeling about him.
Adam and me at WWoHP
Falling in love once in a year is amazing. Falling in love again, one month later is euphoria. When my
Madam Pince and the Librarians
bandmate Kelly and her husband Mike welcomed their first baby girl, Amelie, into the world, I was beside myself with joy. This tiny new person that I'd held in my arms at just 36 hours old, filled my heart with love and wonder. Kelly and Mike named me Auntie, as I sat with them in her hospital room. Being an only child, I felt so blessed with the honor and I cannot wait to spoil her rotten.
In addition to being named an Auntie, I also earned second title this spring. After travelling down to Knoxville to sit for a four hour comprehensive exam, the University of Tennessee's School of Information Science, saw fit to name me a Master of Information Science. After five long years of full time work and part time classes, Madam Pince finally became a real librarian!
The next few months were quite uneventful by comparison. While I got a few cold sores, and a root canal, no one died, Adam and I grew closer, and Amelie began developing a personality. When October arrived, I was once again blessed with a life-changing event. J.K. Rowling (a.k.a. "the woman who changed my life) was to make a one-night appearance at Lincoln Center to promote her new book The Casual Vacancy. After Ms. Rowling was interviewed by the great Ann Patchett, she stayed to sign everyone's books. While I only had a mere four seconds with her, my moment with Jo is one that I will cherish for the rest of my life. You can find the full story
here
.
When the warm weather suddenly turned cold, and the winds started to blow, I knew that luck was about to change. The weather forecast for October 28th was ominous. Hurricane Sandy was approaching. Along with the rest of New York City, New Jersey, and Long Island, I stocked up on gallons of water and as much non-perishable food as I could carry. While I rode out the storm safe on the high-ground of the Upper West Side, my Uncle Len in the Rockaways was evacuated to a shelter, and my parents on the Island lost trees, part of their fence, and their electricity for almost two weeks. When the nor'easter hit several days later, my parents were forced to spend a couple nights at my grandmother's house because their house was a balmy 41 degrees. My uncle had to be moved to a temporary housing unit in The Bronx. While my parents house is back up and running, my Uncle will be unable to move back home for a while.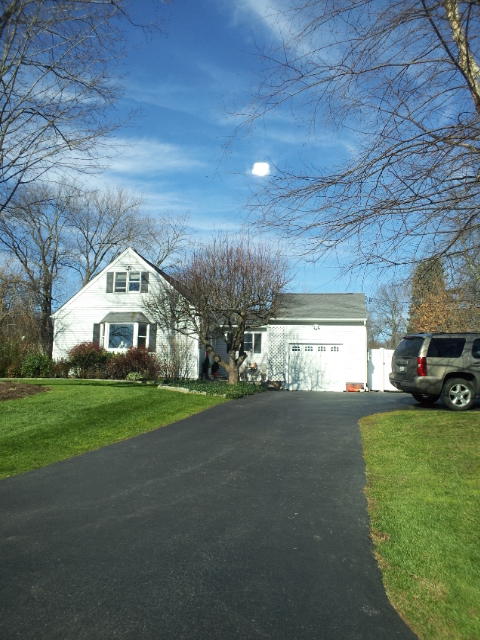 One of the houses that Jack built
If the back-to-back storms weren't enough to remind us that "Winter is Coming", my Great Uncle Jack down in Florida was suddenly rushed to the hospital in the first weeks of November. While we tried to stay optimistic when the doctors told us of the cancer in his body, we prepared for the worst. Three days before Thanksgiving, Uncle Jack passed away at the age of 93. Before my parents flew down to Florida for the funeral, they drove me and my grandmother up to Brewster, New York, to visit the four houses he had built in his time as a carpenter, and the old firehouse in which he was a lieutenant for eight years. My uncle was a special man, and he left his mark on this world. I will miss him dearly.
~


Last January I made a decision to make the best of the coming year. While the last 366 days weren't all good, they weren't all bad either. And as December slowly passes, and I am brought ever closer to the 30th year of my life, I am convinced that I did achieve the goal I had set for myself. 2012 was a year of joy and sadness life and death, separations and comings together. Through it all, with the help of family and friends, I made made the best of it. Together we weathered the storms and relished in the calms. As seasons change, the world keeps turing. So here's to 2013. I have no idea what lies ahead, but I'm ready for anything.
In closing I will leave you with quotations from two very wise men:
In the time of your life, live—so that in that wondrous time you shall not add to the misery and sorrow of the world, but shall smile to the infinite delight and mystery of it. - William Saroyan
What's comin' will come, an' we'll meet it when it does. - Rubeus Hagrid
Best wishes for a happy and healthy 2013. I can't wait to share it with you.